SILVER RECOVERIES TO DATE AVERAGE 65.6%, BY COLUMN CYANIDE LEACH TESTS OF OXIDE AND MIXED MINERALIZATION AND EXCEED HISTORIC PRODUCTION RECOVERIES
SILVER AND GOLD RECOVERIES AVERAGE 78% AND 82% RESPECTIVELY, BY FLOTATION-CYANIDATION OF SULPHIDE MINERALIZATION
Vancouver, BC – June 14, 2023 - Silver One Resources Inc. (TSXV: SVE; OTCQX: SLVRF; FSE: BRK1 - "Silver One" or the "Company") announces additional positive metallurgical test results from six core hole samples and three in-pit surface bulk samples from its Candelaria Project located in western Nevada, USA. The results include column cyanide-leach tests on oxide, mixed oxide and sulphide ("mixed") and sulphide samples, as well as separate flotation tests on two sulphide-rich samples, being conducted by Kappes, Cassiday & Associates ("KCA") in Reno, Nevada. The column leach tests on the core samples continue in progress with final results expected during the second half of 2023.
Gregory Crowe, President and CEO commented: "We are very pleased with the results received to date. The column leach tests are progressing well; the silver recoveries received to date already exceed the historic silver recoveries achieved during the past production of the mine. Moreover, the results also show that silver recovery can be improved significantly by High Pressure Grinding Rollers ("HPGR") crushing prior to heap-leaching. In addition to that, the flotation-cyanidation testing on sulphide mineralization reveals excellent silver and gold recoveries as well as the ability to recover lead and zinc. The latter scenario has the potential to positively impact the economics of the project. Multiple mine and processing scenarios will be evaluated during a planned PEA after the historic resource estimate is updated to a current resource."
Highlights:
Silver and gold recoveries or extractions average 57.2% and 31.5% respectively, for column cyanide leach tests on oxides and mixed oxide-sulphide mineralization core samples, utilizing material crushed to 1" with conventional cone crushing. (Drill hole location is shown in Figure 1).

These recoveries increase to 65.6% silver and 35.2% gold, for the same oxide and mixed mineralization samples when crushed to 1.7mm with HPGR.

Silver recoveries from the oxide and mixed core samples continue to increase during the period tested (see Figure 2).
Column cyanide leach recoveries from sulphides average 47.2% silver and 0.3% gold, utilizing material crushed to 1" with conventional cone crushing.

Cyanide leach recoveries from sulphides increase to 59.3% silver and 1% gold with 1.7mm HPGR crushing.
Sulphides, however, are better recovered by flotation where lead and zinc can also be recovered. Flotation extractions average 62% silver, 72% gold, 50% lead and 37% zinc.
The sulphide results above are improved by leaching the flotation tails. Flotation followed by cyanidation of the tails increases the extractions to a range between 71% to 84% silver (average 77.5%) and 75% to 89% gold (average 82%).
Sulphides in Candelaria are at this time only a small percentage of the deposit but are expected to increase as drilling continues at depth.

Silver recoveries from oxide and mixed core samples reported to date exceed the historic recoveries of 51% reported during the open-pit, heap-leach life of the mine.
Column leach test recoveries from the three surface bulk samples are:

30% to 40% silver and 48% to 63% gold for mixed material crushed to 1.7 mm with HPGR.
48% silver and 76% gold for oxide material crushed to 1.7 mm with HPGR.
Silver recoveries from bulk samples are lower than anticipated due to the abundance of clays in the material tested, which is not representative of the overall in-ground mineralization.
See the Company's news release dated December 13, 2022 for information relating to head grades of samples as well as sample's handling and assay procedures.
Figure 1. Location of metallurgical samples and drill holes in the area of Mount Diablo and Northern Belle pits (see Corporate Presentation at www.silverone.com for assays of select down-hole intercepts).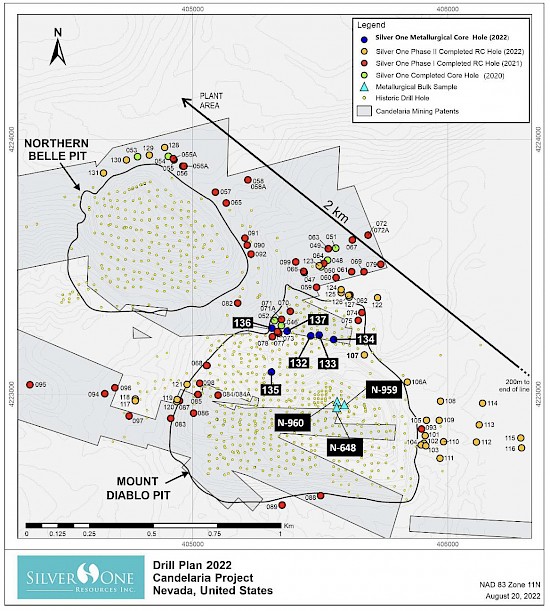 Figure 2. Percent silver extraction vs days of leaching for oxide, mixed and sulfide core samples. Diamond drill hole (DDH) locations shown in Figure 1. DDH 132 and 133 are sulphide samples (drill holes SO-C-22-132 and SO-C-22-133), DDH 134 and 135 are oxide samples (drill holes SO-C-22-134 and SO-C-22-135), DDH 136 and 137 are mixed (oxide-sulphides) samples (drill holes SO-C-22-136 and SO-C-22-137). The material tested includes the entire mineralized zone intersected by each drill hole (20.9m to 31.2 m wide, average 25.5 m) and the head grades vary from 98 g/t to 359 g/t silver and 0.24 g/t to 0.71 g/t gold.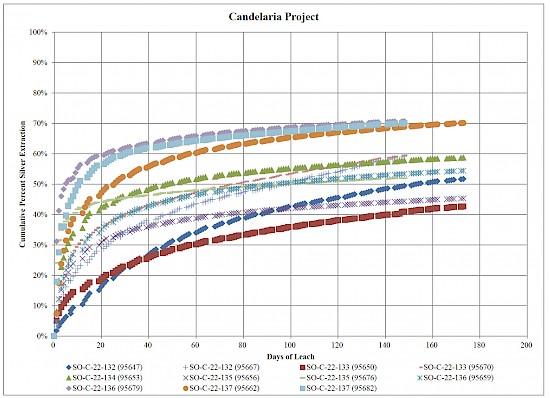 Qualified Person
The technical content of this news release has been reviewed and approved by Robert M. Cann, P. Geo, a Qualified Person as defined by National Instrument 43-101.
About Silver One
Silver One is focused on the exploration and development of quality silver projects. The Company owns a 100%-interest in its flagship project, the past-producing Candelaria Mine located in Nevada. Potential reprocessing of silver from the historic leach pads at Candelaria provides an opportunity for possible near-term production. Additional opportunities lie in unmined historic resources as well as in previously identified high-grade silver intercepts down-dip, which can potentially increase the substantive silver mineralization along-strike from the two past-producing open pits.
The Company has staked 636 lode claims and entered into a Lease/Purchase Agreement to acquire five patented claims on its Cherokee project located in Lincoln County, Nevada, host to multiple silver-copper-gold vein systems, traced to date for over 11 km along-strike.
Silver One holds an option to acquire a 100% interest in the Silver Phoenix Project. The Silver Phoenix Project is a very high-grade native silver prospect, recently permitted for drilling, that lies within the "Arizona Silver Belt," immediately adjacent to the prolific copper producing area of Globe, Arizona.
For more information, please contact:
Silver One Resources Inc.
Gary Lindsey - VP, Investor Relations
Phone: 604-974‐5274
Mobile : (720) 273-6224
Email : gary@strata-star.com
Forward-Looking Statements
Information set forth in this news release contains forward-looking statements that are based on assumptions as of the date of this news release. These statements reflect management's current estimates, beliefs, intentions and expectations. They are not guarantees of future performance. Silver One cautions that all forward-looking statements are inherently uncertain, and that actual performance may be affected by a number of material factors, many of which are beyond Silver One's control. Such factors include, among other things: risks and uncertainties relating to Silver One's limited operating history, ability to obtain sufficient financing to carry out its exploration and development objectives on the Candelaria Project, obtaining the necessary permits to carry out its activities and the need to comply with environmental and governmental regulations. Accordingly, actual and future events, conditions and results may differ materially from the estimates, beliefs, intentions and expectations expressed or implied in the forward-looking information. Except as required under applicable securities legislation, Silver One undertakes no obligation to publicly update or revise forward-looking information.
NEITHER TSX VENTURE EXCHANGE NOR ITS REGULATION SERVICES PROVIDER (AS THAT TERM IS DEFINED IN THE POLICIES OF THE TSX VENTURE EXCHANGE) ACCEPTS RESPONSIBILITY FOR THE ADEQUACY OR ACCURACY OF THIS RELEASE.